So how did I do on my list yesterday? Okay I'd say... I did the dishes, I folded those clothes, I finished my dragon and an art deco brooch for the blog project.. but I couldn't find my camera, so no pictures and no new etsy listing... no biggie! I found my camera this morning and was trying to take pictured for about two hours... I don't know if it's my camera, or if my hands are shaky, or if it's because half of what I was photographing was very shiny/sparkly but out of about 100 pictures, no lie 100 only
6
of which are even
remotely
useable...
needless to say that is not a good ratio... I'll need to seriously sit down and try to figure out this thing out...
To top that off.. I can't access another 25ish pictures because my computer decided.. meh.. it was tired of reading my media drives and needed a break.... it does this now and then.. the sdmini drive doesn't show up in my computer, no green light.. then.. whenever it feels like it.. BAM! it works again no problem.... Silly Computer!
Anyhow without further ado... pictures..
So my computer is getting a little crowded! (so is Duer's[my better half] but
that
picture was crap)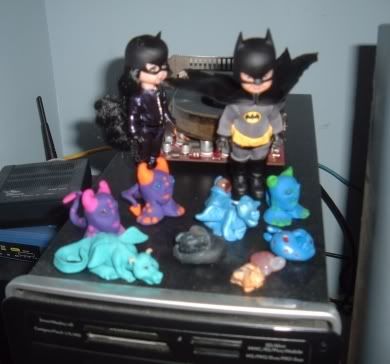 No etsy worthy pics of any of these guys yet.. but completely cute computer companions for your enjoyment: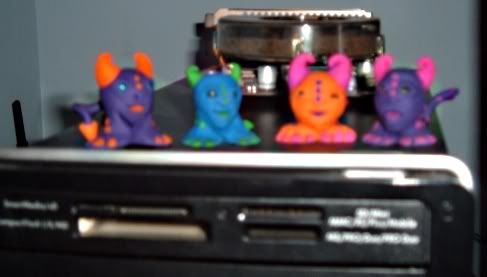 I did finish baby Ruby last night isn't she adorable? too bad these are the only two pics that came out ok.. she's soooo very shiny even the slow flash was too much!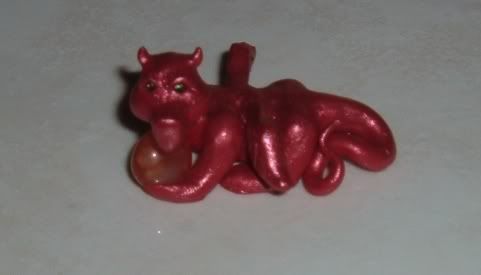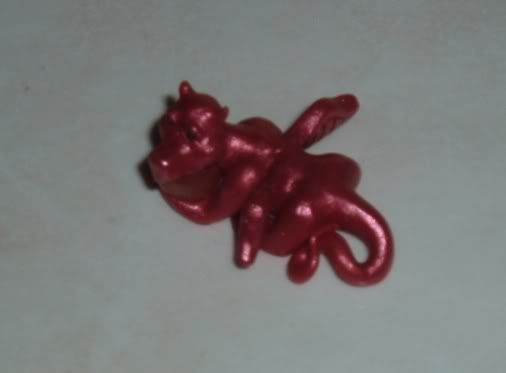 Ok as mentioned before.. I'm making some things inspired by the great blog project
Thursday's Sweet Treat
. This week's theme is Poetic Sea.. I wanted to post pictures of this in stages as it was being created, but like I said, couldn't find my camerea! Now this was the first time I ever tried this project and I'm happy with how it turned out being the first one ever.. of course I'm obssessed with everything that is even a tiny bit off about it but that's just the artist in me.. my own worst critic..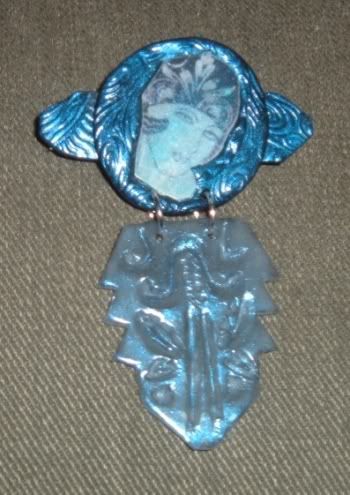 The bottom dangle faux Bakelight turned out perfect.. well not the carving in it.. but the finish and faux bakelight-ness of it.. perfect!
Next time the deco lady gets a border around her to seam it up better.. it looks a little slapped in there this way.... the colors came out so great.. the texture too... They are exaclty what I was going for when I thought poetic sea.. wavy dep blues and turqouise...overall happy with the first shot (repeating myself aren't I?)
Sadly my finished ruby red slipper sharm is NOT photographing well.. too much detail and too uch shine maybe? I don't know... It's so frustrating.. as soon as I get a decent pic of it I'll post it up here.. I'm so proud of how cute it turned out!
Oh oh oh oh.. So I love to find niche online communities and today I joined a new one it's the EtsyNJ street team (a street team is bunch of etsians joined together by a commonality in this case.. living in New Jersey) I'm really excited to get to know some fellow NJ crafters!
On a non-craft/etsy note...
I finally spent some of my xmas gamestop gift card on some DS games... one of which is so well done and addicting! It's called
Big Bang Mini
even if you don't have a DS check out their website just to get an idea of what I'm talking about here!
The art is so well done, the background scroll on the first level (Hong Kong) blew me away. It's very much like an old fashioned arcade shooter.. think space invaders for the new millenia.. with fireworks.... and pirate penguins... I've been playing a board or two while on the gryphon in WoW.. got a 3 minute trip across Northrend? No problem, where's my DS!
Ok.. time to do some dishes....
didn't I just do dishes yesterday? Why are there always more dishes?